City Pastels: The most colourful cities in Europe
•
Posted on May 12 2016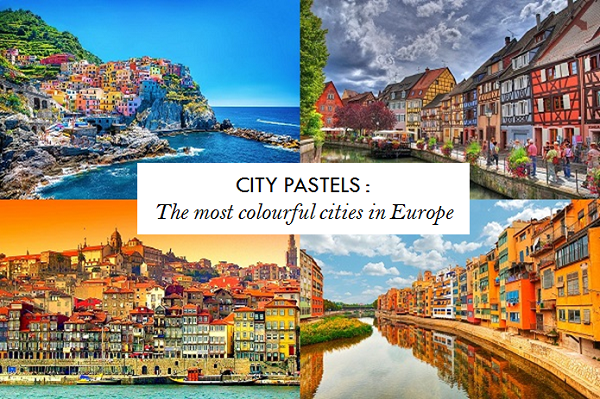 With its mighty capitals, vibrant coastal towns, and villages so charming that need to be seen to be believed, Europe is colorful in every possible sense of the word. Cities aside, there are tons of other intensely hued places on the continent with the greatest travel offerings, from postcard-perfect islands and culture-packed medieval cores to hotels, flower gardens, and exuberant markets. Some of the most spectacular are listed below. The rest…well, you'll have to imagine or come and see for yourself.
Cinque Terre, Italy
The pearl of Italy's riviera is not a city, per se, but a collection of five seaside villages that are together celebrated as an UNESCO World Heritage site. It comprises the villages of Monterosso al Mare, Vernazza, Corniglia, Manarola, and Riomaggiore, all of which are perched high above the quiet Mediterranean below.  These villages climb the mountainous overlook with bright, varied colors, appearing as if they were drawn in place by the pastel hand of a dreaming artist.  Each quiet fishing village warmly accepts travelers, some of which are often amongst the world's A-list celebrities.
Positano, Italy
Find this season's sweetest pastel shades in the dreamy town of Positano. Carved out of a cliff, it's one of Italy's most beautiful towns on the Amalfi Coast. Drive through the sharp twists and bends of the famous Coastline where majestic, azure waters meet cliffside villages. Spend your days lazing around grabbing boats to beautiful beaches, having long laid-back lunches and wandering the beautiful little cobbled streets, which in Positano means endless winding stairs. Back in 1953, John Steinbeck took up residence in Le Sirenuse, writing about the town, "Positano bites deep. It is a dream place that isn't quite real when you are there and becomes beckoningly real after you have gone". And to this day this description is still spot on, making the town just as appealing as it was then. 
Porto, Portugal
Surrounded by the vineyards of the Douro Valley, and bathed in plenty of sunshine most of the year, the city of Porto in Portugal has plenty of lush and natural shades to show off. But it's in the UNESCO World Heritage Ribeira district that things turn a little brighter. The medieval buildings that tumble down to the river front are all dressed up in different hues, whilst throughout the rest of the city you'll see endless orange rooftops and elaborate blue and white mosaics gracing the buildings. Gorgeous.
Reykjavik, Iceland
Europe's smallest and northernmost capital city may be cold, isolated, and surrounded by a barren countryside, but there's nothing cold or dreary about the Icelanders and their lively spirit. And this can be first observed in the colorful cityscape of Reykjavik, with its downtown dotted with low-rise multicolored houses clad in corrugated iron that seem to come straight from a box of Lego.
Wroclaw, Poland
For the first-time visitor, Wroclaw can throw up a number of surprises. The fourth largest city in Poland offers a pretty unique mix of history, culture, old-world charm, and young, cosmopolitan vibe. As a reflection of its identity, the architecture of its well-preserved Old Town is both eye-candy and mind-bending. Ranging from Gothic and Baroque to Art Nouveau, the pastel-hued historic buildings that frame the medieval Market Square (Rynek) make Wroclaw one of Europe's most colorful cities.
Copenhagen, Denmark
Once a debauched playground for sailors, Copenhagen's picturesque Nyhavn Canal, with its exuberant stretch of colorful, narrow townhouses, is now one of the trendiest and most animated areas in town. Built in the 17th and 18th centuries, these vibrantly colored houses that line the sunny northern side of Nyhavn were originally meant to be rented by the city's poor and middle class residents, while the imposing mansions on the canal's shaded side were designed to serve as residences for the wealthy elite.
Colmar, France
Situated near the border with Germany, the adorable Alsatian town of Colmar, with its pretty cobblestone streets and quaint canals crossed by bridges, is the kind of place that brings to mind childhood fairytales. Probably the most charming of all the city's treasures, its gorgeously preserved old core boasts the most peculiar collection of medieval half-timbered houses, all colored in chalk pastels and decorated with small pots of fresh flowers.
Girona, Spain
Although less famous than neighboring Barcelona, the Catalan city of Girona has a host of marvelous attractions, from one of Spain's best preserved Jewish quarters to the muh acclaimed restaurant El Celler de Can Roca, a bridge constructed by Gustave Eiffel, and a myriad of places made for beautiful strolls. One of these is the city's good-looking riverfront with its cases penjades painted in a sweet color palette of pinks, yellows, and oranges.
____________________________
RUMOUR LONDON